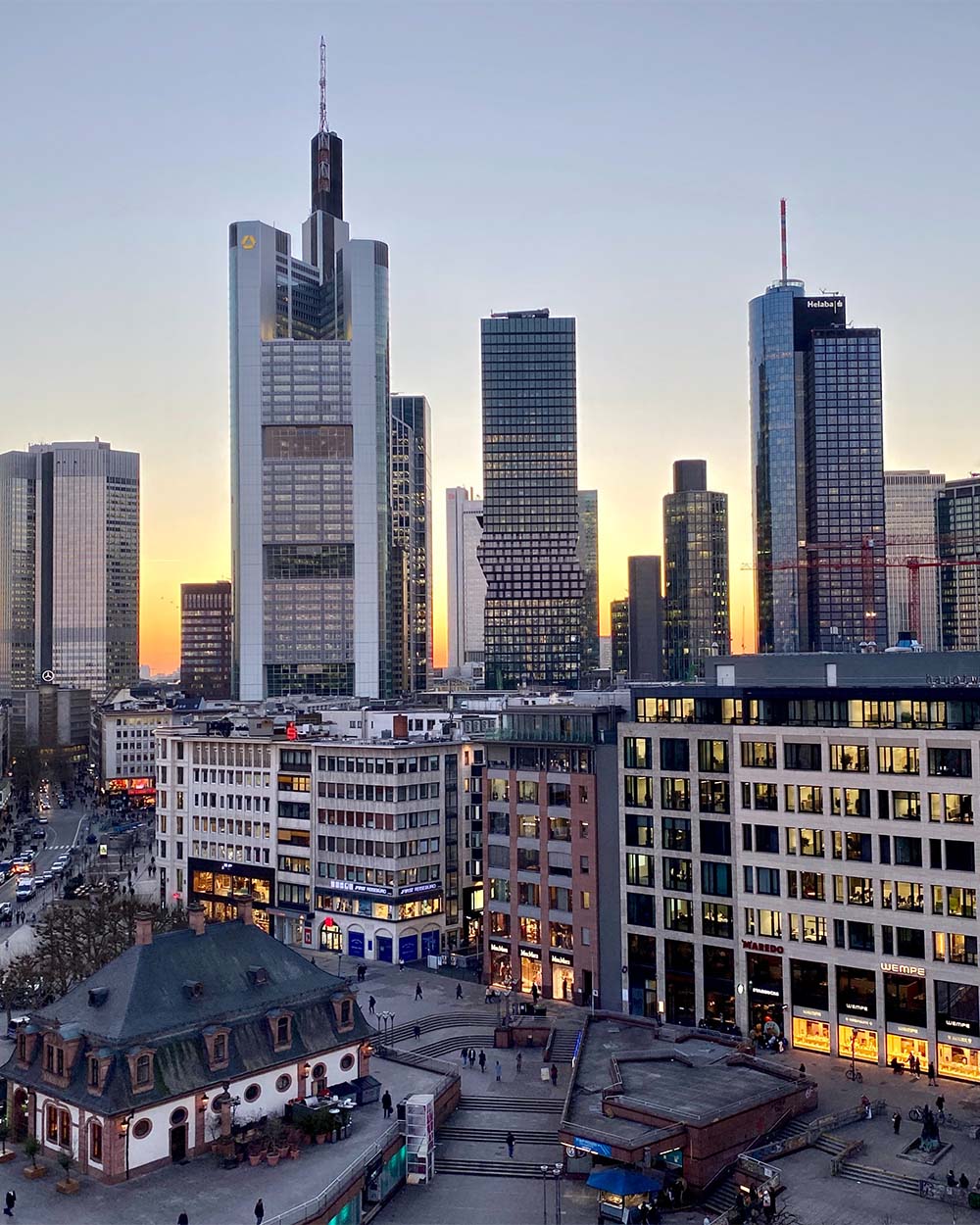 Location
Nestled between the Main River, the Old Town, the Westend and the Northend, the building ensemble is located in Frankfurt's currently most exciting districts: the city centre.
The location is characterised by the harmonious coexistence of old and new, but planned projects like Palaisquartier, High Lines or the Karstadt Site on the Zeil provide further momentum for future developments in the district. Whether for lunch, after work, or just "in between", the surrounding area offers numerous opportunities. Just around the corner is the legendary "Zeil" and the exquisite shopping centre "MyZeil", as well as the equally legendary "Fressgass" boasting a colourful diversity of gourmet shops, quaint cafés, bars and restaurants.
In addition to culture and shopping, the neighbourhood also offers plenty of green areas for recreational purposes, with the Eschenheimer Park just seven minutes away by foot. All you need is within easy reach from the "Eschenheimer Tor" subway station (450 metres away), to the "Konstablerwache" S-Bahn station (350 metres away). From there it's only two stops to Frankfurt's central train station and 22 minutes to Germany's largest airport.
1. FRANKFURT OPERA
2. UNIVERSITY CLINIC
3. FRANKFURT TRADE FAIR
4. TRADE FAIR TOWER
5. CENTRAL TRAIN STATION
6. MAIN TOWER
7. ALTE OPER
8. KAISERDOM
9. MUSEUM OF MODERN ART
10. FRANKFURT ZEIL
11. FRANKFURT ZOO
12. FRANKFURT CHIEF FINANCE OFFICE